Who is Sunita Paul?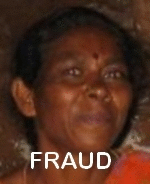 Some readers (MH, Zia) have left comments on a previous post about how Ms. Paul is a one-woman opposition party, and how her commentary is interesting and incisive. MH actually suggested that we were attacking the messenger instead of the message. Instead of responding in the comments, let us expound on this on a more prominent forum.
There is one tiny element missing from Ms. Paul's most incisive writing: something called "Truth". Lets examine that claim a bit.
Weekly World News is probably one of the most "interesting" news outlets out there. Why, right now they are asking you to register because "ALIENS ARE COMING! Be the first to know. SIGN UP NOW!"
And you must take them seriously too: they are, after all, the World's ONLY reliable news. If you don't believe me, check out their masthead.
So "interesting" does not make a commentary or news "truthful."
Before diving into the "incisive" claim, let us look at evidence of Sunita Paul plagiarizing the writing of others: Mashuqur Rahman, the New York Times, The Daily Star, The Hindu, and multiple other Indian news outlets.
The fact of the matter is, to paraphrase a famous quote: what is truthful in Sunita Paul's writing is not original, and what is original is not truthful.
Do you value incisiveness more than the truth? Do false, made-up stories attract just because they are incisively made up? Then this post has no value to you. But if you believe truth is an integral requirement of a commentary, then read on.
As MH, Zia and others did not challege the logic and evidence presented to show that "Ms." Sunita Paul is a plagiarist, a cheat and a fraud, can you tell me why we should believe anything else he/she writes?
In other words, if the integrity of the messenger has been proven to be fake, how can we believe the message?
It is easy to agree with the "message" if we do not look at it analytically, and may I suggest that you are falling in that trap. Being a rational person, I can not help but analyze what I read. And I must say, most of the claims do not even pass the smell test.
Allow me to cite some examples:
From her April 14 article, Suppressed trip, hidden meeting and treatment luxury of Bangladeshi politicians, we will analyze some passages.
You be the judge:
Check here two points! Sajib Wajed Joy could not bring his former wife Christine Ovemarrie as they already got separated long time back. Secondly, on April 13, 2009, he had two-hour long closed door meeting inside the ministry of Home Affairs with none but Tanjim Ahmed Sohel Taj, the junior minister for the ministry.
…
Joy was very dissatisfied to see long list of Awami League leaders and activists as collaborators and conspirators of the massacre, which came out from the statements of the BDR jawans during interrogation. He gave instructions to Sohel Taj to brief Kahar Akhand on twisting the information for trying to salvage as many as possible BAL men. There were also discussions on strategizing to save Barrister Fazley Noor Taposh, Sheikh Fazlul Karim Selim, Sahara Khatun, Mohiuddin Khan Alamgir, Jahangir Kabir Nanak, Mirza Azam, Liakot Sikder and other BAL men.
Mr. Wajed's wife's name is spelled incorrectly. Besides that, what does Mr. Wajed's marital status have to do with this story? Unless Mr. Wajed is trying to get married, this is irrelevant.
Still not good enough for you? Then check out this report from the New Nation (or your favorite online Bangladeshi newspaper for Jan 11, 2009)
Sajib Wazed Joy, son of Prime Minister Sheikh Hasina, arrived in Dhaka at early Saturday from United State of America (USA).

Joy was accompanied by his wife Christine and their daughter Sophia and mother-in-law and brother-in law landed. This is first visit of Joy to Bangladesh after the landslide victory of the AL-led grand alliance in the December 29 national election.
Reporting this married couple (at least 3 months ago) as "already got separated long time back" is nothing but yellow journalism.
But let us ignore this journalistic ethical lapse for a moment, and apply the smell-test to this reporting. Since "Ms." Paul is "deaf and dumb" according to her own bio, it would be fair to assume that her primary means of communication is via email.
In another post, she has also written that she has never been to Bangladesh.
Are we being asked to suspend disbelief, and believe that not only someone emailed her the news that such a meeting took place, but also emailed her specific information regarding what Mr. Wajed tasked Sohel Taj to brief Kahar Akhand?
Presumably, if the meeting at all took place, these hand-picked people who were present must have found Ms. Paul so fascinating (having never spoken to her in person or even via phone, since she is "deaf and dumb"), they are risking their loyalty, job and possibly freedom to pass her these secrets over email as soon as the meeting is over?


Do you buy this? In that case, my great-grand-father left me a huge white building across the street from Curzon Hall in Dhaka that I want to sell to you at a very good price.
But what of "Joy was very dissatisfied to see long list of Awami League leaders and activists as collaborators and conspirators of the massacre"? Did Joy forget that our
fearless journalist had already exposed him? If so, let me refresh Joy (and MH and Zia's memory): on March 29, 2009, in an article titled "Bangladesh: Manipulation of BDR massacre probe", our Ms. Paul wrote:
14. Why Prime Minister´s son Sajib Wajed Joy came to Dubai on February 27 to meet some of the fleeing mutineers,

15. Why Joy handed over thick envelops to each of the fleeing mutineers at the Dubai airport,

17. Why Sajib Wajed Joy has been instructed by her mother not to come to Bangladesh before the investigation issue is over,
("her mother"? Fine; people make mistakes, let it slide)
I don't know if Mr. Wajed was at the Dubai airport on Feb 27. But I will play the Devil's advocate, and agree that the questions described above may be, just may be, true. I will even ignore for a moment how this self-described "never been to Bangladesh" journalist knew this. (We will get back to this in a minute)
One problem that liars have is they forget what they lied about, and a future lie often ends up contradicting a past lie. Looks like our "Ms." Paul is no exception. Because if you compare the March 29 and April 14 articles, these inconsistencies become clear.
So Mr. Wajed defied an instruction from his mother to return to Bangladesh?
According to this article, it was known (to "Ms." Paul and "her" loyal readers) that
Mr. Wajed was at the Dubai airport giving thick envelopes (presumably containing cash) to fleeing mutineers. Then why, oh why, "Joy was very dissatisfied to see long list of Awami League leaders and activists as collaborators and conspirators of the massacre" as described in the April 14 article?
I mean, if he is the paymaster of the fleeting murderers, why would Joy have to "see" the long (or short) list? Shouldn't he already know about who was involved? Why would he have to defy his mother's orders to return to Dhaka so he could instruct Sohel Taj what to tell the CID officer about the investigation? He should have known all this by February 27, and not wait until the information came out during the interrogation.
The person hiding behind the Sunita Paul pen-name fell in the typical liar's dilemma, and forgot the previous lie.
Now let us get back to Sunita Paul's unbelievably good sources. I have received many emails explaining that the journalists in Bangladesh have the same information, but they are afraid to publish it. But Ms. Paul, being outside Bangladesh, is immune to such intimidation, so she can write about these.
Right.. do you really believe that the BNP-backed newspapers and journalists are such cowards that they would sit on such explosive news and not use it to topple Awami League from power? We saw BNP leaders claim that the BDR massacre was caused so Khaleda Zia's house could be taken by AL. Even they are not making these acquisitions, because even BNP does not believe this information.
The explanation? Ms. Paul is making these out of thin air. We have already proven that she is a liar, cheat and a fraud, so this fits perfectly.
Or, if all this does not make any sense to you, here is another explanation.
Sajeeb Wajed Joy was born in an affluent family. He has two masters degrees, or "twice masters" as it is uncommonly known. Who would know better than Joy himself where he was on February 27, and what was he doing that day, or what transpired at the meeting with Sohel Taj? Lastly, who will be immune if the story of the meeting between Joy and Sohel Taj leaks? Surely only Joy has that level of access and privilege.
And why didn't he just instruct Sohel Taj by phone about what to do, instead of coming to Dhaka in secret? Why, he is deaf and dumb, and can not use the phone (just like "Ms." Paul can not give us a phone interview, because she is deaf and mute.)
Conclusion: Sunita Paul is none other than Sajeeb Wajed Joy. All the accusitions against Joy? What a pefrect cover!
What? You don't buy this either? Then we will have to go back to the original explanation: Sunita Paul, when "she" is not plagiarizing from others, just makes stories up.
If you are still in the interesting and incisive camp, may I suggest some books by Tom Clancy or Don Brown? I believe you will find them far more interesting, incisive, and clearly labeled as "Fiction."
—-
J @ Shada Kalo [http://shadakalo.blogspot.com] writes using a pseudonym and is best known for exposing government, military, corporate foul plays through whistle-blowing investigative reports.